There are several types of compensation that can be sought in a personal injury case. Most often, these are broken into two primary categories:
General compensatory damages
Special compensatory damages
When you have sustained a serious injury, it is likely that your claim will include damages from both categories. During your free consultation with one of the affordable personal injury lawyers in our network, what types of damages your case may include can be discussed in greater detail.
General Compensatory Damages
General compensatory damages are not linked to a specific monetary figure. Instead, these are damages that are generally common among personal injury claims.
While there can be several types of general compensatory damages, the most common are:
Physical pain
Emotional suffering
Loss of companionship
Depending on the nature of your case and the severity of your injury, general compensatory damages can be fairly significant. These damages are seldom awarded by insurance companies willingly and may require a jury trial for maximum benefit. This is something that you and your personal injury lawyer will need to determine based on your needs and the specifics of your claim.
Special Compensatory Damages
Unlike general damages, special compensatory damages are special to your case. These damages are provable, typically being tied to a bill or other official records.
Common special compensatory damages include:
Current and future medical bills
Current and projected future lost wages
Adaptive technology and household modifications/expenses
Special compensatory damages will include anything related to your injury that will result in demonstrable costs. Because special compensatory damages are linked to actual costs, there is no limit to the amount that can be sought. Insurance companies are not likely, however, to pay even a small portion of your actual financial losses. For this, legal assistance is almost always required.
Other Damages
Other types of damages include punitive damages, which may be sought when an injury is the result of someone else's deliberately reprehensible or unforgivably irresponsible behavior. These damages are not commonly sought.
Wrongful death damages may be sought as well, in cases where a life was lost. These include the same types of damages – special and general – but may expand to include loss of projected financial contributions, loss of projected 401k or retirement benefits, and loss of consortium.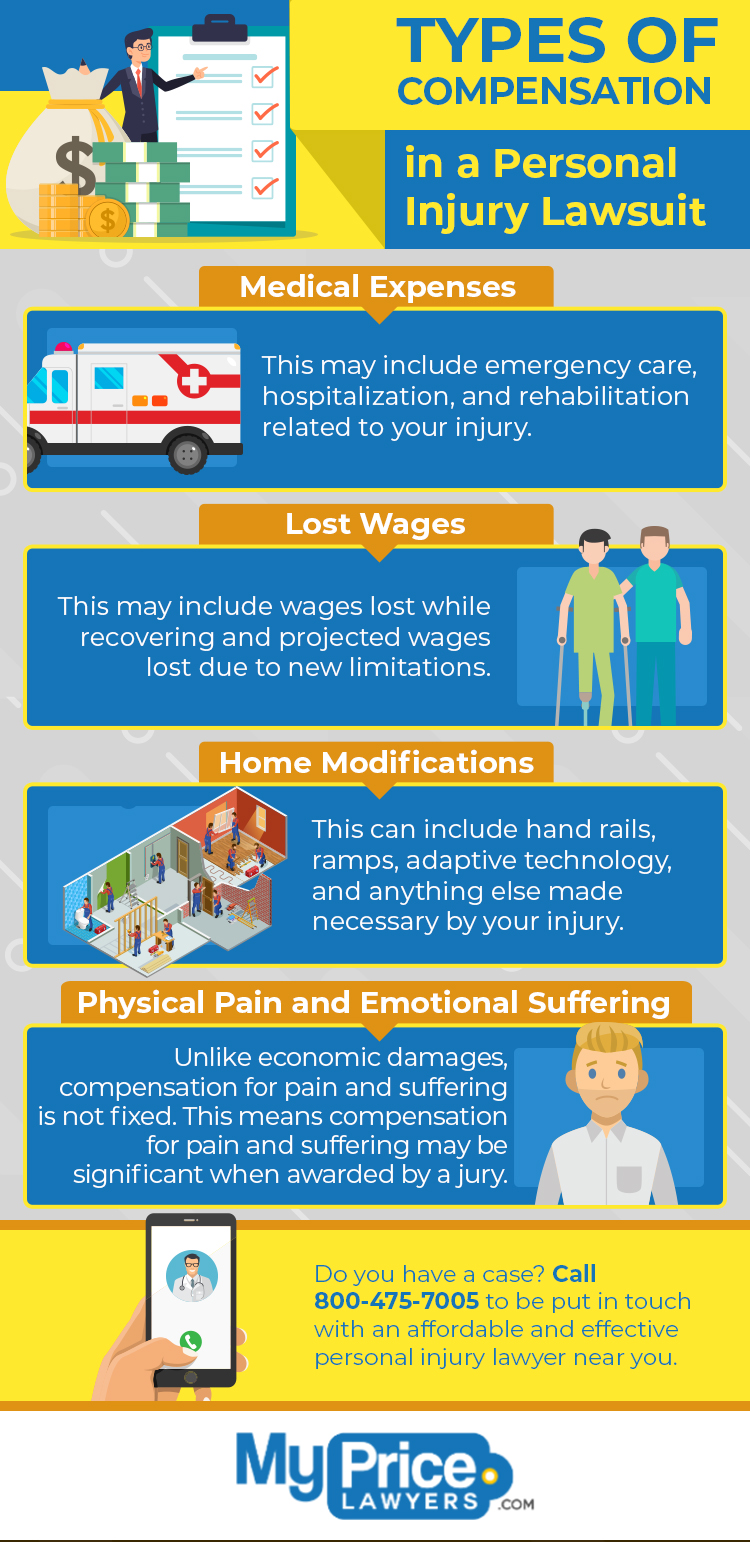 Contact an Affordable Personal Injury Lawyer Today
If you are in need of an inexpensive, but equally effective personal injury lawyer, please call (888) 473-6137 to be put in touch with a qualified attorney in your area.
My Price Lawyers is a referral service for reasonably priced and exceptionally effective attorneys serving Tampa, Brandon, Lakeland, Clearwater, St. Petersburg, Orlando, Sebring, and all surrounding areas of Florida.