Catastrophic Injury Claims
Tampa, St. Petersburg, and Lakeland Area Attorneys
Catastrophic injuries include life-altering injuries such as brain and spinal cord injuries. They are injuries that are expected to be long-term or permanent.
Reeling from the physical and emotional pain as well as the initial costs and the prospects of what the future may hold, too many injury victims and their families leap at quick settlement offers that sound like a lot of money but in reality, are not nearly enough to cover even their most basic needs.
Compensation for catastrophic injuries must cover your life-long costs. Experienced catastrophic injury attorneys work closely with the right experts to calculate the expected long-term costs of your injuries so that you can demand enough money to truly pay for your injuries.
The attorneys in the My Price Lawyers network understand the importance of obtaining a fair settlement for your catastrophic injury claim.
Please call us today at

(888) 473-6137

to get started with your free claim evaluation.
Why You Need and Experienced Catastrophic Injury Attorney
When someone else has caused your injuries, through their negligence or wrongdoing, you deserve compensation that will pay for the life-time of care that you will need as a result of your injuries. If you do not demand enough or settle for less than you need, you and your family will be left out in the cold when the money runs out. You do not get to go back and ask for more later.
Faced with catastrophic injuries, families rarely anticipate the true costs that they will be forced to bear in the years to come. Even experienced injury attorneys do not try to make these estimates on their own. Your injury attorney will work with a team of experts to determine what you can expect your injuries to full cost over the course of your life. This typically includes medical experts, economists, life care planners and sometimes others.
You only get one opportunity to demand the money that must last you a lifetime. As unfair as it sounds, you will not be allowed to go back and try for more compensation if the amount you receive runs out. Please, do not wait until it is too late.
Contact My Price Lawyers today to be connected with an experienced Florida catastrophic injury attorney who will protect your legal rights and fight for full compensation for you.
Legal Representation You Can Afford
My Price Lawyers connects injury victims like you with experienced attorneys in the Tampa and St. Petersburg area. We do not charge you for this service.
The catastrophic injury attorneys in our network represent injury victims on a contingency fee basis. You will not be asked to pay a retainer or be billed hourly attorneys' fees. The fee is a percentage of the money that you recover by settlement or winning your case at trial. If you do not receive compensation for your injuries, you do not incur attorneys' fees.
The Cost of Catastrophic Injuries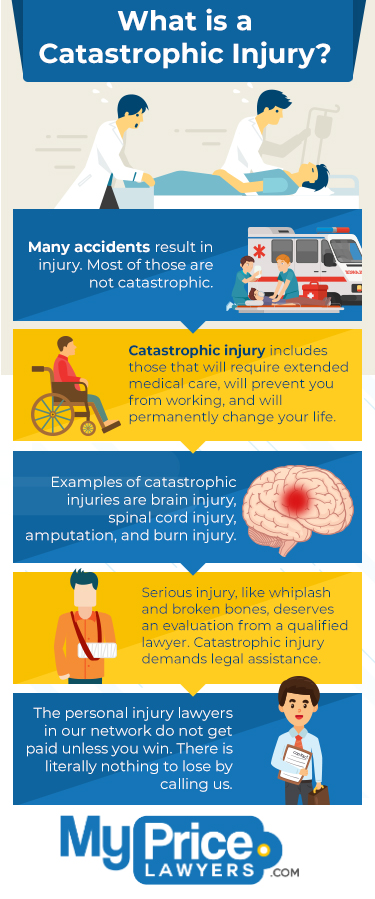 Each case is unique. The lifetime costs of catastrophic injuries can be in the millions of dollars. While the initial medical expenses seem unbearably high, the long-term expenses are typically far greater.
Initial medical expenses of catastrophic injuries can include:
Ambulance fees – ground and air
Emergency room
Intensive care unit (ICU)
Hospitalization
Surgery, sometimes multiple surgeries during initial hospitalization
Other medical treatments
Initial rehabilitation and therapy
Post-acute care facility
Special equipment and medical supplies required to return home
Long-term expenses of catastrophic injuries can include:
Additional surgeries and other treatments for the injury
Medical care and treatment for secondary conditions and complications, including emergency medical care which may be recurring
Ongoing costs of medications, medical equipment and supplies
Ongoing rehabilitation and therapy
Prosthetics and/or assistive devices, such as wheelchair, walker or cane
Adaptive transportation, such as wheelchair van and lift
Home modifications
Home health care
Custodial care
Long-term care in a nursing home or other facility
Help with other household needs and services you can no longer perform
The costs of catastrophic injuries go beyond these expenses. After catastrophic injuries you may never be able to return to work. Those who can work again may only be able to do so after months or years of rehabilitation or training for a completely different type of job. You may require accommodations for disabilities, and you may not be able to earn at the same level as you did before your injury.
For some, catastrophic injuries mean the need for constant care at home. This could be during the first few weeks or months of recovery or it can be an indefinite need. This care is typically provided by family members with one or more loved ones having no choice but to quit their jobs and stay at home to provide constant care and supervision. It is physically and emotionally exhausting. It will also cost your family another source of income.
Of course, the hardest cost to bear is not the financial cost of your injuries but the inability to participate in the activities you used to enjoy. Catastrophic injuries can prevent you from interacting with your family the way that you used to. It can mean missing milestone events for your children. And, depending on the nature and severity of our injury, it can mean facing a shortened life expectancy.
Full compensation for catastrophic injuries should address your economic and noneconomic damages. It should include not only your existing and short-term damages, but also the lifetime cost of your injuries. In Florida, your spouse can also seek compensation for loss of consortium.
Types of Catastrophic Injuries
Catastrophic injuries are life-altering. In most cases they are permanent or long-term injuries. In many cases there is a combination of serious injuries as a result of a serious accident. Examples of catastrophic injuries include:
Brain injury
Spinal cord injury
Amputation
Organ damage or loss
Vision loss
Hearing loss
Severe burns
Crush injuries
Multiple broken bones and fractures
Neurological damage
Respiratory damage
Loss of use of a body part
Paralysis
Paraplegia
Tetraplegia
Severe scarring
Terminal or debilitating illness
Brain Injuries
Brain injuries affect each person differently. The long-term consequences are impossible to predict. Even a so-called "mild" traumatic brain injury (TBI) can cause long-term impairment and the full extent of the harm caused may not become apparent for months or years. Brain injuries can affect every aspect of your life.
Brain injury victims and their families report that TBI has negatively affected their lives in areas including:
Income
Employment
Living situation
Marriage
Parenting
Education
Psychological status
Brain injury treatments are constantly improving. What may benefit one person with TBI may not work or others. Each brain injury survivor needs customized care. Insurance typically does not pay for the most advanced treatments. Full compensation for your injuries can give you access to the care that gives you the best chance of making the fullest recovery possible.
Consequences of brain injuries are different for each person and can include:
Epilepsy
Sleep disorders
Cognitive impairment
Physical impairments
Chronic pain
Personality changes
Difficulty with controlled movements
Weakness
Balance problems
Dizzy spells
Headaches
Sensitivity to light
Ringing ears
Sensitivity to noise
Fatigue
Exhaustion
Difficulty concentrating
Foggy thinking
Memory problems
Amnesia
Confusion
Aphasia – loss of the ability to express or understand speech
Loss of vision, hearing, taste, or smell
Loss of libido and/or sexual dysfunction
Extreme mood swings
Unexplained anger
Frustration
Irritability
Anxiety
Depression
Restlessness
Altered sense of self
Loss of self-confidence
Low self-esteem
Impulse control problems
Substance abuse
Criminal behavior
Spinal Cord Injuries
Spinal cord injury is one of the most frightening things to hear after an accident. Although there is not yet a cure for spinal cord injury, many patients do regain some functioning. The road to recovery is long and hard. It can take up to two years to see the full extent of recovery that will be possible. Treatment is constantly improving.
The likelihood that you will regain functioning depends on the severity of the injury. Spinal cord injury affects the body from the level of injury down.
Direct effects of spinal cord injury can include:
Paralysis
Loss of muscle control
Loss of sensation and reflexes
Changes in sensation, including hypersensitivity
Chronic pain including pain at the injury site and phantom pain elsewhere
Weakness
Poor coordination
Muscle spasms
Loss of bowel and bladder control
Respiratory problems
Sexual dysfunction
Paraplegia
Tetraplegia
Those who survive spinal cord injuries are susceptible to secondary conditions, which are a concern for the rest of your life and can be fatal.
Secondary conditions can include:
Autonomic dysreflexia, also called autonomic hyperreflexia
Muscle atrophy
Weight gain and obesity
Bone fractures
Bed sores
Bladder infections
Lung infections
Pulmonary embolism
Sepsis
If you or someone you love has suffered catastrophic injuries in Tampa, Brandon, Lakeland, Clearwater, St. Petersburg, Orlando, Sebring or anywhere in the state of Florida, My Price Lawyers is here to help you get in touch with an experienced and affordable attorney with extensive experience in catastrophic injury claims.
Our lawyers will fight for justice for you and your family.
To get connected and learn more about how we can help, please call

(888) 473-6137

today or contact us right away.