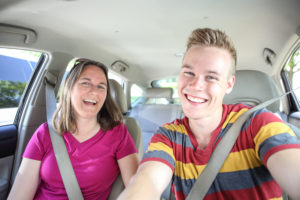 It's National Teen Driver Safety Week. Do you know how to keep your teen safe on the road? The National Highway Traffic Safety Administration has tips and resources for parents and educators to begin the conversation about safe driving with teens. Visit their site, linked above, for additional information.
Remember, motor vehicle crashes are the leading cause of death for teens aged 15 to 18, but most car accidents involving teens are a result of inexperience, not bad behavior.* In fact, crash risk drops by more than two-thirds after the first 1,000 to 1,500 miles of independent driving.
CLEARLY, YOUR TEEN NEEDS TO DRIVE ALONE, BUT ALONE IS KEY: TEENS ARE MUCH MORE LIKELY TO BE INVOLVED IN AN ACCIDENT IF THEY HAVE FRIENDS IN THE CAR.
Teens Injured in Accidents
Teenage passengers are more likely to be injured in a car being driven by a peer. Some of this has to do with general distraction. Novice drivers are more likely to take eyes and attention off of the road, increasing crash risks.
To help combat the risks posed to teens by teens, the state of Florida has implemented a graduated drivers license (GDL) as follows:
Learner's License – to obtain a learner's license, a child must be at least 15 years old and must always be accompanied by a licensed driver who is over 21 years old. Teens between 15 and 17 must hold this license for a minimum of 12 months during which time they must complete 50 hours of supervised driving, 10 of which has to be at night. These drivers may not operate a vehicle after 10 p.m.
Driver License – at 16, a teen may obtain a driver's license so long as a learner's license has been held for at least 12 months. Drivers under the age of 17 may not operate a vehicle between 11 p.m. and 6 a.m. unless driving to or from work or accompanied by a driver who is 21 or older. At 17, restrictions are reduced to between the hours of 1 a.m. and 5 a.m.
These restrictions can help reduce accidents by keeping teens off of the road at dangerous times, but they do little to deal with distraction, speeding, and other behaviors that can result in car accidents.
If your child is injured in a car that was driven by another teen, you may be entitled to seek compensation beyond insurance offerings. This is where an attorney will be useful. In order to determine where fault should lie – and despite common perception, it is not always with the teen driver – an investigation will need to take place. This enables your attorney to build an effective case for more significant compensation. Medical expenses, lifestyle changes, and emotional and physical suffering deserve fair compensation. My Price Lawyers can help you find the best attorney for the job.
As a referral network of personal injury attorneys, My Price Lawyers works with some of the most respected and trusted attorneys in the Lakeland area. If you are in need of a lawyer, for an accident involving a teen driver or for any other reason, please call (888) 473-6137 to be put in touch with an experienced attorney with offices close to you. My Price Lawyers works with attorneys in Tampa, Brandon, Lakeland, Clearwater, St. Petersburg, Orlando, Sebring, and nearby areas throughout the state of Florida.
*https://www.teendriversource.org/teen-crash-risks-prevention