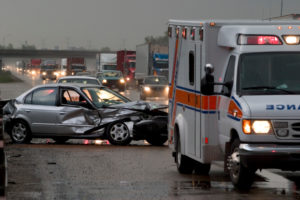 Immediately following a car crash, there are steps you can take to protect your rights and begin the process of collecting fair compensation. These steps include:
Photo documenting the scene – use your phone or a camera to get pictures from multiple angles
Get contact info – get the license number, insurance info, and contact info from all involved drivers. Get the contact info and names of all witnesses
Get vehicle info – license plate and VIN numbers from involved vehicles may prove useful
Contact police – file a report and cooperate, but never so much as suggest you are to blame
Cooperate with emergency personnel – allow EMTs to do their job, allow police to do their job, get the name and badge/ID number of each person you talk to
As soon as you are released from the scene of an accident, make an appointment with your doctor. Traumatic brain injury and spinal cord injury may both take days or even months to show symptoms. At that point, it will be too late to take measures to prevent long-term disability.
Severe Injury
If your injury is severe, you will obviously not be able to get out of your car to start snapping pictures and taking names. In these cases, a personal injury attorney should be contacted right away. By contacting a personal injury attorney quickly, your accident can be investigated thoroughly, allowing for a better chance of full compensation. Waiting to take action can make getting full compensation difficult. Calling an attorney immediately is the best way to protect your rights.
Even if you are able to document the scene and gather evidence, it is a good idea to talk to a lawyer. Bring the information you gathered at the scene to your free consultation to learn if your claim qualifies for legal action. Taking a claim to court will almost certainly result in a settlement or verdict that is more in line with your actual damages.
What We Do
My Price Lawyers is a referral network for high-quality, affordable attorneys. We don't believe you need to sacrifice service and experience for affordability. The personal injury lawyers in our network all handle these cases on a contingency basis. This means if you don't make a recovery, they don't get paid. No legal or court fees. No out-of-pocket expenses at all. If you don't get a settlement, your attorney doesn't get paid.
YOU LITERALLY HAVE NOTHING TO LOSE BY CALLING OUR LAKELAND, FLORIDA OFFICE FOR A FREE CASE REFERRAL TO A QUALIFIED ATTORNEY WHO IS PREPARED TO TAKE YOUR CASE AS FAR AS NEEDED TO SECURE THE TOTAL COMPENSATION YOU DESERVE.
If you live in or around Tampa, Florida, and are in need of an affordable personal injury attorney, please call My Price Lawyers at (888) 473-6137 today. We work with attorneys throughout the Tampa, St. Petersburg, and Clearwater areas of Florida.